Rewind just over 8 years to the 24th November 2011 when Rach Cass (on of my bff's) and I were in Prague.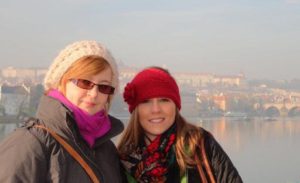 I was under offer on a flat in Notting Hill, all was going swimmingly with the solicitors and mortgage (FYI it was 5 weeks between offer being accepted and completion).
We'd booked a holiday, a few days in Prague, a few days in Edinburgh. Not knowing that the property was going to complete that week.
This is us in Prague. I'd had an email saying everything was good to go would I like to exchange then complete. I pushed the go button.
Three days later, on the corner of (I think) somewhere by Grassmarket I got the phone call to say I was now the proud owner of a £200k flat in Notting Hill!!
It was unbelievably surreal. Such a big occasion but no fireworks, no nothing. I think we looked at each other and Rach said to me 'you just brought a flat'.
When I got back to London a few days later I picked up the keys (again in a non fireworky style way).
Dumbfounded I'd walked to the flat, let myself in and thought wow I've done this. Even better I'd negotiated the furniture included, it was only a year old because the seller had decided that he only wanted to be in the UK a year… he'd also left all his belongings. 
I got a new mattress and freezer, that was is and then dressed it with the help of Mum. Put it on the market and had tenants within a week.
2 years later I remortgaged it for £320,000 and took out £90k cash.
Looking back no deal has ever been this easy. In fact the whole thing was too good to be true. But it happened in the most miraculous of ways and I've never had more than a 4 week void on it and that 4 weeks was only because in 2018 I renovated it. Up until moving to NY it was netting £500pcm. I have letting agents who also manage it now so it's at £400pcm net. From a 360sq ft single let.
The whole thing is mad. I don't even pretend that this would be possible right now in this market. I brought it exactly at the right time.
There are a few massive takeaways I have to highlight again to make sure you get the real picture here:
Unfortunately no one lights fireworks the day you buy a property, you've got to work that yourself

I brought in a market that was rising exceptionally quickly… I really want to reiterate that its not something I plan for in this current market.

You've got to plan for current the current market situation and also if the market gets worse, that way you are risk proofing what you are doing
Over to you… can you share the story of the first time you brought a property?
P.S Once you've bought your first property, want the strategy to expand your property portfolio? Click HERE to get my free flowchart!