Let's have a sneak peek inside the member's Club.
I'm going to let you into a secret. The members club is opening soon!
If you don't already know what you can get out of the members club, here's a little look.
If you're more of a visual person, watch the video. If you prefer to read about all the benefits keep on reading from here…
So, the first thing you can get, are spreadsheets and checklists so that you can manage your properties from anywhere.
Yes, that's right. You can travel the world and still manage your property successfully. I do!
Also included in the members club is done for you strategies so you always know what to buy next.
One to one mentorship on a monthly basis is available for members. This is set up so you and I can always have a call and I can help you move forward.
You also get unlimited email support and help. You get workshops and drop in Q and A sessions and an online learning environment so that you can always keep progressing on your property investment journey.
You get quick shifts so that you can take action fast in every single area of property investment.
It is everything you need to be a successful property investor. It's time for you to build a legacy which pays for your lifestyle.
Want to get a feel for what the member club's content looks like? Unlock the rest of this blog to find out!
To get started, ever Monday in the members club I put out a new workshop. This week it was slightly different. One of the biggest decisions that holds investors up for weeks, or even months, is what property type to buy next. When members first jump into the members club I go through a series of questions with them so that we can plan a strategy around their ideal property type.
So that you can make this decision quickly too I've tied up these questions into one short bite size workshop.
It will only take 10 minutes – you will need a pen and paper at the ready. Let's see what you get!
Every week, on a Thursday, you get access to 5 new Quick Shifts to upscale your property portfolio fast. Here is an example from November: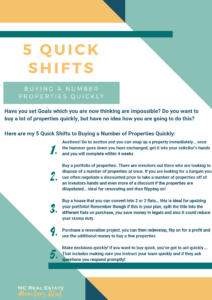 Finally, you know what property you're looking for, you've got what it takes to build a portfolio quickly, all that's left to do is finance it. So, just to finish off this sneak peak inside the members club – here's my finance on demand flow chart.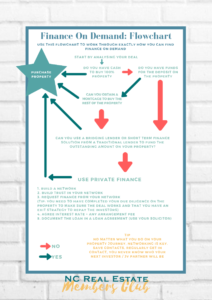 If this is interesting to you and you've seen all of the above and think, yes, that's exactly what I need in my life then sign up for the members club!
If you thought, yes Natasha, I want to work with you then keep in mind that you do get to work with me individually. I get to know you, your goals and what your strategy because I help you put it in place.
Join the waiting list now so that you can get access to the member's club first as soon as it opens.
Click the link now to join the waiting list:
https://ncrealestatemembersclub.com/
I'm excited to get to know you and your property portfolio!
Natasha